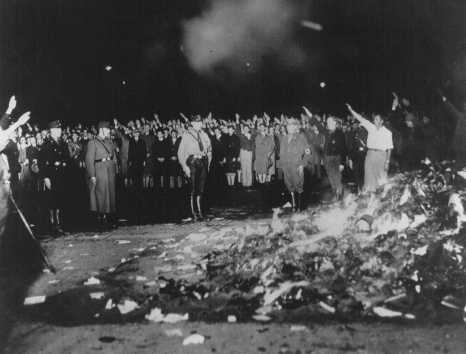 "You don't have to burn books to destroy a culture. Just get people to stop reading them." ~ Ray Bradbury
One image that made a strong impression when I was a girl is the above photograph of students and Brown Shirts burning books at a university in Berlin in 1933. This was a campaign conducted by the German Student Union to  burn books in Nazi Germany and Austria by classical liberal, anarchist, socialist, pacifist, communist, Jewish, and other authors whose writings were viewed as subversive or whose ideologies undermined the Nazis.
I was raised to treat books with respect. A book was revered, almost worshipped in my parents' house. At one point, we had over three thousand books on a number of subjects. If I had a question, my father would pull a book from the shelf and simply say, "Read this."
So it's no surprise I have many books. Maybe the subject matter is focused on a handful of topics that interest me, but nonetheless, whenever I have a question, I turn to the books on the shelf or I browse through Amazon to see if I can find another one to add to my collection.
I always thought books made the best gifts, but was amazed to see that not many of my friends appreciated receiving one. One good friend admitted he didn't like read, and it surprised me that he would be so open about it. Over the years, I've met more people with the admission of  "I'm not a big reader," or "I haven't opened a book since grad school," or "Who has time to read?"
When you meet more and more folks  like that you begin to think who needs to burn books when there's simply no interest in reading at all. Out of curiosity I checked some statistics and this is what I found: According to a Pew Research Center report that nearly a quarter of American adults had not read a single book in the past year (that includes ebook or listened to an audio book) The number of non-book-readers has nearly tripled since 1978.
And that made me wonder about literacy in the U.S. In an October 2013 OECD survey that measured literacy, math and computer skills of about 5,000 U.S. adults between ages 16 and 65, and compared them with similar samples of adults from 21 countries, these were the results (from the Washington Post):
Americans are "decidedly weaker in numeracy and problem-solving skills than in literacy, and average U.S. scores for all three are below the international average and far behind the scores of top performers like Japan or Finland," said Jack Buckley, commissioner of the National Center for Education Statistics, the data collection arm of the U.S. Department of Education.

When it comes to literacy, adults in the U.S. trailed those in 12 countries and only outperformed adults in five others. The top five countries in literacy were Japan, Finland, the Netherlands, Australia and Sweden.
Who do we blame? Parents who don't have time to read to their kids, but also don't show any interest in reading at all? Schools that are underfunded, over-crowded, and have inadequate teachers, Socio-economic inequality, or simply too much TV, Internet, and too many electronic gadgets to play with? Or is it a combination of all the above?
Yet when I was told that on the last day of BEA the Javits center was packed with tweens and teens, I was impressed that kids would want to spend a gorgeous day inside a convention center for the sole purpose of getting books to read. So there's some hope−at least that's what I'd like to believe.